U.S. Economy weakest in three years (GDP rate down from 2.6 to 1.6)
Posted on
Friday, October 27, 2006
by Charls King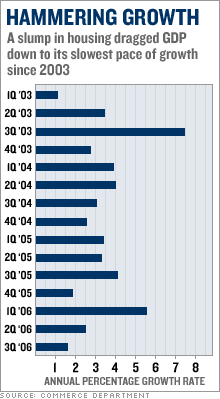 The
U.S Economic growth
in the third quarter shows that it slowed to the
weakest point
in more than three years. It was not expected, the analysts had forecasted something else.
Gross Domestic Product
(GDP)
in the latest quarter shows a growth of
1.6
percent which was
2.6
in the last quarter, said by the Commerce Department. Economists had forcasted a slowdown to
2.1
percent.
Slower than expected ecomomic growth isn't positive, while some economists indicated that the economy will
bounce back
in the current quarter, helped by lower energy prices. Spending of the consumers came in a bit weaker than expected.
posted by Charls King @ 10/27/2006 03:07:00 PM 0 Comments